Crystal Cave History
Crystal Cave was probably first seen by prehistoric Archaic people who lived in the region between 8,000 and 1,000 B.C. The first recorded owners of Crystal Cave were William A. Wallace, followed by William Jenkins. Neither of these men made any attempt to develop the cave commercially. This was left to the third owner, Alfred Mann.
Alfred Mann, his wife Agnes and their four children came to the United States from Brighton England. The cave was opened by Alfred Mann in 1893 as the second commercial cave in the state of Missouri. The cave remained in the Mann family throughout the lifetime of the three Mann sisters who operated the cave after their fathers death from 1925 – 1969. When the last of the sister trio died, the cave was left to their longtime friend Estle Funkhouser. After 13 years of cave ownership, Estle sold the cave to her sister and brother-in-law, Loyd and Edith Richardson.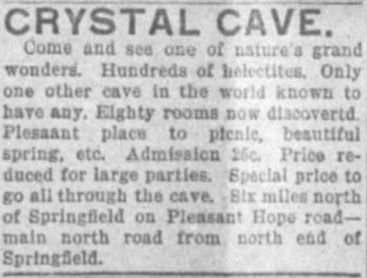 Springfield Leader-Democrat; Sept. 6, 1901
The Richardson's continued to make improvements in the cave including hand digging the walkways, building stone walls and adding electric lights. The cave was Loyd's passion, spending long days working inside the cave, continually improving and discovering more of the cave's rooms and formations.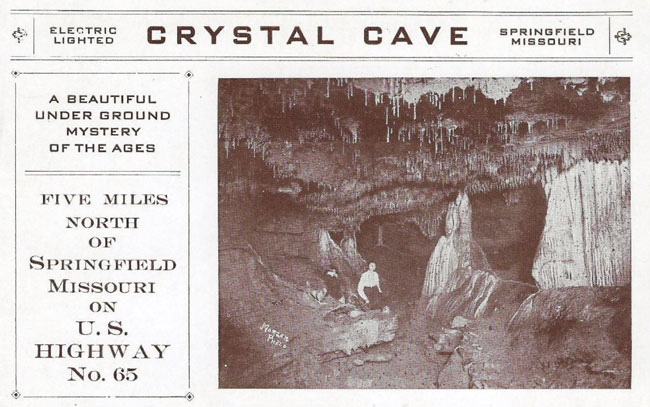 When Loyd died the cave was closed to the public. Loyd willed the cave to George and Barbara Blowers. Barbara was Loyd's daughter. The Blowers owned the property for a decade. They eventually offered the property for sale.
The property was bought by the Dole family in 2021. They began the refurbishment of the property which had fallen into disrepair. They cleaned up the overgrown vegetation, refurbished the gift shop, poured concrete walkways and upgraded the lighting in the cave. They also added a miniature golf course, installed a train ride and built gemstone mining, all for the visitors to enjoy. In 2021 Crystal Cave was re-opened to the public after being closed for decades.